Bibury Court Hotel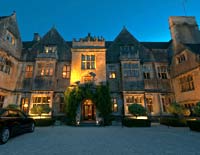 You have requested further details about Bibury Court Hotel, at present the details we have are as follows.

Description
Bibury Court Hotel is a beautiful 18 bedroom Country House set in six acres of gardens and grounds and bounded by the River Coln. The House is situated on the edge of the village of Bibury, which William Morris described as "the most beautiful village in England."

Located in the English Cotswolds, Bibury Court is not just an ideal base for a tour of this famous region but is also within one hour by road of Oxford, Bath and Stratford upon Avon and therefore is perfectly located for those of you wishing to explore a wider area. Visitors to the annual Cheltenham Races are best advised to book early!

In addition to catering for visitors to the area Bibury Court Hotel makes the perfect Wedding Venue.
Address
Bibury
Cirencester
GL7 5NT
Telephone
01285 740337
Website
Map
Click here to view location map for Bibury Court Hotel
This Cirencester Business Directory query was generated on 17/09/2019 16:06:14
If you believe any information is incorrect, please email webmaster@cirencester.co.uk



Advertising your business here costs from £145 + VAT per annum
See the Advertising section for more details
Advertisements
Related Links