Cirencester Market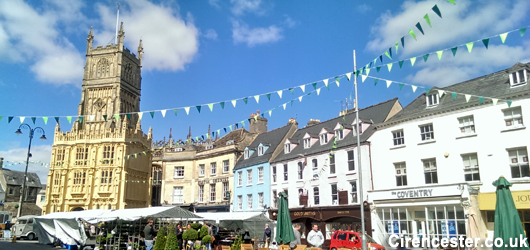 A view of the Market Place in Cirencester on Market day. Photo copyright Cirencester.co.uk - All rights reserved.
** News ** As of Monday May 8th the Monday market has recommenced
Cirencester's Charter Market is held in the Market Place on Monday and Friday each week.
This market is one of the oldest charter markets in the country, having been mentioned as early as 1086 in the Domesday Book. It forms a vital part of the Town Council's policy of fostering a thriving town centre. It is a shopping experience not to be missed. That it is particularly attractive seems to be proved by its regular selection by film crews looking for a typical country market as a backdrop for advertising on television.
The Cirencester Market usually runs from 9am to 3pm and typical stalls include those selling plants, outdoor furniture, wicker baskets, food and household goods.
Advertisements
Links