Cirencester News
The Cirencester Blog is a collection of diary entries, news, gossip and other Cirencester related information.
Bishops Walk Prepares For Its Best Christmas for Customers Ever.
Bishops Walk, Cirencester´s iconic covered shopping arcade, is getting ready for its best customer Christmas ever. Having coped with the recession, with some shops closing, the traders, with the Ce...[full story]
Posted : 18/11/2014 20:11:57
Christmas Fun At Cirencester´s Bishops Walk
Cirencester's Bishops Walk covered shopping arcade will be filled with fun on four Saturdays before Christmas. The free entertainment will begin on November 29 with a mid morning performance by the...[full story]
Posted : 04/11/2014 18:52:56
Coffee and Games Raise Funds for Paternoster School
Instore collections by Cotswold Artisan Coffee and Planet Games in Bishops Walk raised £57 for Cirencester's Paternoster School for disabled youngsters. All the money was put into promotional coll...[full story]
Posted : 26/03/2014 10:05:52
Get Set For Bishops Walk Golden Bunny Hunt
Bishops Walk shopkeepers in Cirencester will be hiding golden bunnies on their shelves at Easter in a completion to win a large chocolate rabbit for a family. All shops in Bishops Walk will be tak...[full story]
Posted : 25/03/2014 17:05:15
Bishops Walk Shopkeepers Back Cirencester Students Nepal Trek
Parents of students at Deer Park School, Cirencester, who are planning a World Challenge trek across Nepal to help repair a school there and help pupils in need, are to stage a bucket collection in th...[full story]
Posted : 12/02/2014 15:47:41
Wishing Shoppers A Warm and Hi-Tech Christmas at Bishops Walk
Students from Cirencester College are creating a Jean Michel Jarre style piece of cinematograph technology to bathe the town's Bishops Walk shopping centre outside and in with unique music backed fil...[full story]
Posted : 13/11/2013 17:14:53
Major Nightlife Organisation Joins The Evolution of Bishops Walk
Leading Cirencester leisure, entertainment and retail businesses, Meridian, are developing a new night venue and fast food unit throughout the first floor of the town's only undercover shopping arcade...[full story]
Posted : 25/09/2013 14:54:49
Bishops Walk Secures Great New Shops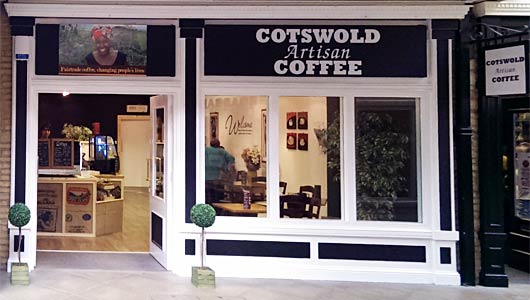 Bishops Walk, the shopping arcade in Cirencester, will welcome some great new businesses in the coming weeks. Indeed two have already opened - A...[full story]
Posted : 29/08/2013 13:36:13
O2 Special Night for SMEs
Cirencester O2 To Stage New Mobile Phones Insight Session For 50 SMEs O2, UK leaders in mobile telephones, are to stage a special insight evening for small and medium businesses at their n...[full story]
Posted : 07/09/2012 14:57:01
Do you have a Cirencester related news story?
If you have a Cirencester related news story you would like to tell us about, please email news@cirencester.co.uk
Advertisements
News Archive
A selection of Cirencester News from the archive will appear here shortly.