Cirencester News
The Cirencester Blog is a collection of diary entries, news, gossip and other Cirencester related information.
Cirencester Fleece Fayre 2018 - Community May Day Celebration returning to Cirencester
Cirencester's second Fleece Fayre, a fun filled community May Day festival, celebrating Cirencester and its rich history of the wool trade will be returning to the Market Place on Monday 7 May 2018. ...[full story]
Posted : 24/04/2018 17:16:10
Waterloo Car Park Closure
The Waterloo car park will be closed for 1 day on Monday 9th April for essential repairs. Motorists with parking permits may use the Brewery and Forum car parks. If using the car park on Sunday ...[full story]
Posted : 21/03/2018 21:45:14
Stars of This Country to switch on Cirencester's lights this year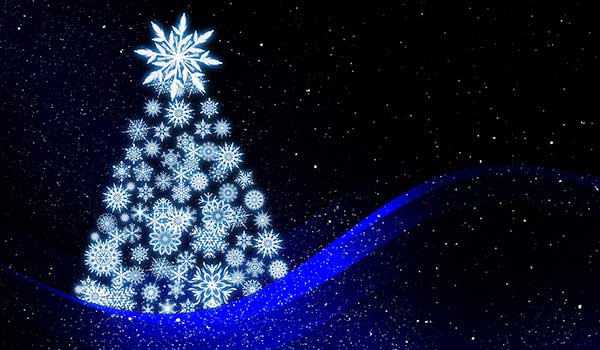 Cirencester Town Council, organisers of the Cirencester Sparkles Advent Festival, is delighted to announce that Charlie and Daisy May Cooper, stars from the BBC's hit mockumentary, This Country, will ...[full story]
Posted : 15/11/2017 09:48:22
Cirencester Mop - October 2017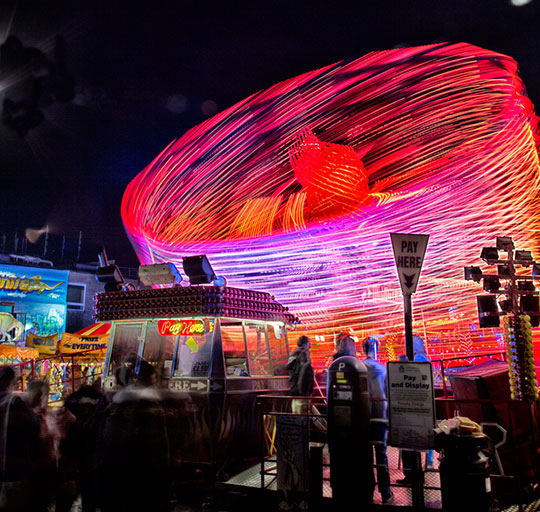 The popular Mop Fair is being held in the Market Place from 12:00pm to 10:00pm on Monday 9th and Monday 16th October offering stalls and fairground rides. Roads closures will be in force from 12:00...[full story]
Posted : 07/10/2017 12:56:38
Attractions announced for the 29th Cotswold Show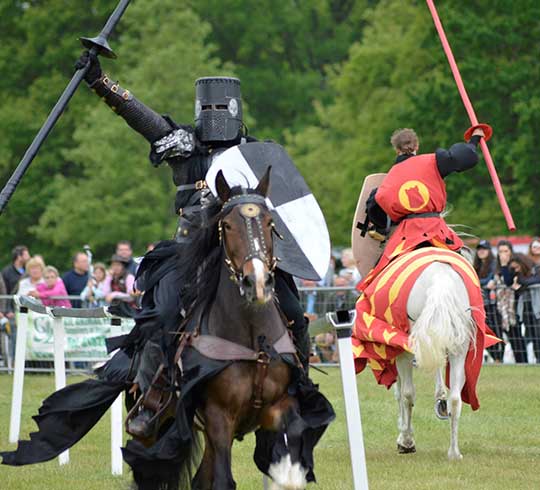 Plans are well underway for the Show to be held in Cirencester Park on 1st and 2nd July 2017 with new attractions announced. Now in its 29th year, it remains one of the Cotswold''s most popular rur...[full story]
Posted : 16/05/2017 13:06:16
Local business wins national kitchen award
Local kitchen manufacturer Parlour Farm has won a prestigious national kitchen award. The Cirencester based company topped the 'Studio Partner of the Year' category at this year's Häfele Studio Partn...[full story]
Posted : 11/05/2017 16:42:02
Christmas Lights - Charity Display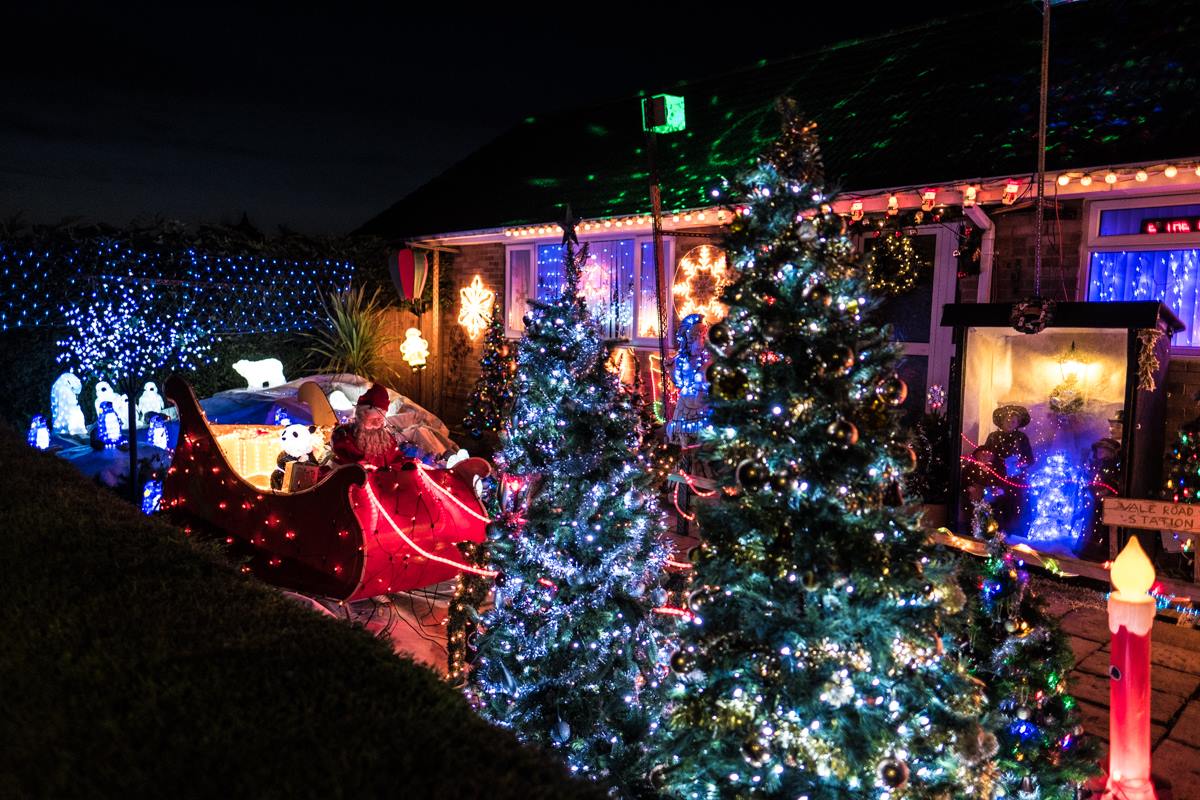 Vale Road, Stratton, Cirencester, GL7 2JJ invites you all to an amazing display of 11 bungalows including a Special Attraction - An Indoor Lighted Model Victorian Christmas Village (Biggest In The Uk)...[full story]
Posted : 20/12/2016 17:50:20
High flying local accountants nominate Great Western Air Ambulance as their Charity of the Year
Cotswold-based Chartered Accountancy firm, McGills has announced the Great Western Air Ambulance Charity as its Charity of the Year. The firm, which has offices in Cirencester and Malmesbury, will ...[full story]
Posted : 07/06/2016 14:14:37
Côte Restaurant Exclusive Opening Offer - 50% off food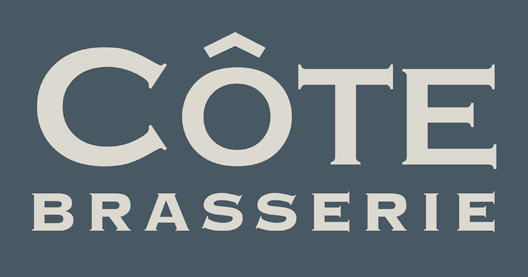 To celebrate the opening of Côte Brasserie in Cirencester we would like to offer you an exclusive 50% off your food bill when dining Sunday to Thursday*. Inspired by new trends in Paris, Côte is de...[full story]
Posted : 04/03/2016 10:09:19
Côte opens in Cirencester March 2016
Côte Brasserie will soon be opening a new restaurant tucked away on Cirencester's famous Black Jack Street. This historic thoroughfare, is full of distinctive character and stories of old, not to ment...[full story]
Posted : 26/02/2016 08:57:19
Council freezes Council Tax
Members of Cotswold District Council met today and endorsed the Cabinet's recent recommendation to freeze its share of local residents' Council Tax payments for 2016/17, following a 5% cut in 2015/16,...[full story]
Posted : 23/02/2016 20:48:08
PHE offers help for Gloucestershire households with high radon
Hundreds of homes across Gloucestershire have been found to have high levels of radioactive gas radon. Last autumn, Public Health England (PHE) invited about 18,000 households across Gloucestershir...[full story]
Posted : 15/09/2015 17:23:44
CDC will provide free parking at Trinity Road, Cirencester on weekends
Cotswold District Council has announced that, with effect from Saturday 12 September, motorists will be able to park free of charge from 7 am to 7pm on weekends and public holidays in the authority's ...[full story]
Posted : 10/09/2015 17:34:03
Cotswold Show to mark 70th anniversary of the end of WWII with Spitfire display
The Cotswold Show and Food Festival today announced an exciting new addition to this year's Show as they confirmed there will be an air display by the Rolls-Royce Supermarine Spitfire PS853 at the Sho...[full story]
Posted : 02/04/2015
Attractions announced for the 27th Cotswold Show
Plans are well underway for the Show to be held in Cirencester Park on 4th and 5th July 2015 with many new attractions announced this week. Headlining the main Bathurst Arena will be Moto Stunts In...[full story]
Posted : 06/03/2015
New Tennis Key Fob Scheme launched in Cirencester
Tennis fever is about to hit the UK now that Wimbledon 2015 is on the horizon. To coincide with this great time of year, a new key fob system has been launched for the tennis courts in St Michael's Pa...[full story]
Posted : 02/06/2015 16:07:27
Residents Give Top Marks to BUPA's Ashley House Care Home in Cirencester
Bupa's Ashley House care home in Cirencester has been awarded top marks for care by the people who know best – its own residents. The results come from an annual independent survey of residents wh...[full story]
Posted : 28/05/2015 01:11:33
Top Cirencester Hotel To Host First Wedding Fayre

The Kings Head is to welcome newly engaged couples to its first wedding fayre this March (Sunday 8 March 2015, 11AM – 4PM ). Cirencester's first luxury hotel will showcase its stunning wedding spaces ...[full story]
Posted : 24/02/2015 17:55:28
Bishops Walk Prepares For Its Best Christmas for Customers Ever.
Bishops Walk, Cirencester´s iconic covered shopping arcade, is getting ready for its best customer Christmas ever. Having coped with the recession, with some shops closing, the traders, with the Ce...[full story]
Posted : 18/11/2014 20:11:57
Christmas Fun At Cirencester´s Bishops Walk
Cirencester's Bishops Walk covered shopping arcade will be filled with fun on four Saturdays before Christmas. The free entertainment will begin on November 29 with a mid morning performance by the...[full story]
Posted : 04/11/2014 18:52:56
Raining Hard ... But Macmillan's Stratton Show Was A Great Success
In spite of downpours through the day, Stratton Show, organised by Cirencester Macmillan, raised an amazing £1,688.34 for cancer care and support in Gloucestershire. And, the organising team were ...[full story]
Posted : 01/09/2014 19:13:35
Appeal following fatal collision near Cirencester
Police are appealing for information after a motorcyclist died in a collision in the Cotswolds. The incident happened on the A433 near to the junction with the A429 at Kemble at around on Thursday ...[full story]
Posted : 23/08/2014 10:16:00
Police bike security roadshow continues
The police bicycle security roadshow continues today (Tuesday 19 August) in Tetbury and tomorrow (Wednesday 20 August) in Tewkesbury. These will be followed by events in Cirencester of 22 August and...[full story]
Posted : 19/08/2014 19:24:53
Federation of Small Businesses Moves into UBC Offices in Cirencester
The country's biggest business representation group - the Federation of Small Businesses (FSB) - has opened its new regional office at United Business Centres' office complex in Cirencester, Glouceste...[full story]
Posted : 15/07/2014 11:00:45
Police appeal following serious road traffic collision
Police are appealing for information following a serious collision. The incident happened on the A417 near Ampney Crucis at around 5.35pm on Tuesday afternoon (June 24). The collision involved a...[full story]
Posted : 26/06/2014 08:59:45
Cirencester Beaujolais Run Plan To Support Local Charities
Cirencester's Le Beaujolais restaurant has challenged local restaurants and public houses and hotels to take part in the annual Beaujolais Run for the town to France and back to raise money for Star C...[full story]
Posted : 25/06/2014 20:00:30
Changing of the Guard at Cirencester
The weekly Antiques and Collectables Market in Cirencester''s historic Corn Hall has been a regular Friday feature in the Cotswold town for more than four decades. Over the course of the last 22 years...[full story]
Posted : 20/06/2014 15:08:17
Le Beaujolais Mounts Star Cook Challenge for Students with Disabilities.
Three students with disabilities from Gloucestershire's Star College have been challenged to each cook a dish in a bid to become the Star Cook in a competition being staged by Cirencester's Le Beaujol...[full story]
Posted : 11/06/2014 14:51:25
Suited, booted and [ready to be] recruited
If you're unemployed and live in Cirencester, a free course held at Bromford's office on Tetbury Road could see you kicking off your new career in just two weeks. Taking place from 22 April to 2 M...[full story]
Posted : 11/04/2014 17:35:05
Get Set For Bishops Walk Golden Bunny Hunt
Bishops Walk shopkeepers in Cirencester will be hiding golden bunnies on their shelves at Easter in a completion to win a large chocolate rabbit for a family. All shops in Bishops Walk will be tak...[full story]
Posted : 25/03/2014 17:05:15
Cotswold District CAB will close from 31 March to 6 April
The Cotswold District Citizens Advice Bureau will be closed from Monday 31 March for 1 week and will reopen on 7 April. The CAB are refurbishing their office to increase capacity to help more people. ...[full story]
Posted : 25/03/2014 09:42:06
Bishops Walk Shopkeepers Back Cirencester Students Nepal Trek
Parents of students at Deer Park School, Cirencester, who are planning a World Challenge trek across Nepal to help repair a school there and help pupils in need, are to stage a bucket collection in th...[full story]
Posted : 12/02/2014 15:47:41
Appeal to Trace Missing Cirencester Man Peter Reiner
Police are appealing to the public to help find a missing man from the Cotswolds. 55-year-old Peter Reiner from Cirencester was last seen by the landlord of the Twelve Bells pub on Lewis Lane in t...[full story]
Posted : 29/01/2014 09:56:41
Cirencester Post Office® to offer extended opening hours during December
With Christmas Day less than one month away, the Post Office has announced that Cirencester Post Office branch will be offering longer opening in the run up to the festive season. From Monday 2 Dec...[full story]
Posted : 04/12/2013 12:12:07
New Business Provides Bath Renovation Service in Cirencester and the Cotswolds
Is your cast iron or pressed steel bath looking tired and unloved? Has it lost its shine and lustre? Don't replace it CALL US first! Based in Cirencester, we are able to completely resurface old ...[full story]
Posted : 14/11/2013 15:07:20
Wishing Shoppers A Warm and Hi-Tech Christmas at Bishops Walk
Students from Cirencester College are creating a Jean Michel Jarre style piece of cinematograph technology to bathe the town's Bishops Walk shopping centre outside and in with unique music backed fil...[full story]
Posted : 13/11/2013 17:14:53
Family Tribute to Pete David Gentil
The family of Pete Gentil, who died following a collision on the B4425 on Saturday September 14, have released a tribute to the man they called "one of life's good guys". "Pete Gentil – devoted h...[full story]
Posted : 24/09/2013 09:42:41
Heritage Open Days - Cirencester
This weekend sees Cirencester taking part in Heritage Open Days again. Many buildings normally closed to the public will be open. Venues taking part in the 2013 Heritage Open Days include: Bi...[full story]
Posted : 13/09/2013 15:17:36
New General Manager for historic King's Head hotel in Cirencester
Stephen Mannock is to join the historic 4 star King's Head Hotel in Cirencester as General Manager where he will be responsible for the strategic and operational management of the hotel and launching ...[full story]
Posted : 05/09/2013 15:19:03
New refurbished luxury hotel to open in Cirencester in March 2014
West Berkshire hotel operator, The Vineyard Group, is excited to announce plans to re-open the historic King's Head Hotel in the heart of Cirencester town centre at the beginning of March 2014. Clo...[full story]
Posted : 01/08/2013 16:28:14
The 2013 Cotswold Show
A reminder that the Cotswold Show takes place this weekend at Cirencester Park. This year's Show, on 6th and 7th July, marks the 25th anniversary of this fabulous family day out. To celebrate, t...[full story]
Posted : 01/07/2013 21:20:59
Move over Glastonbury: Phoenix Festival Countdown Begins
Coming to the Abbey Grounds Cirencester on the 29th and 30th June, the line up for the Cotswold's first ever youth led music and arts festival is hotting up as preparations enter the final stage. T...[full story]
Posted : 27/06/2013 08:35:33
Summer holiday fun with Cirencester Children's Literary Festival 12-17 August 2013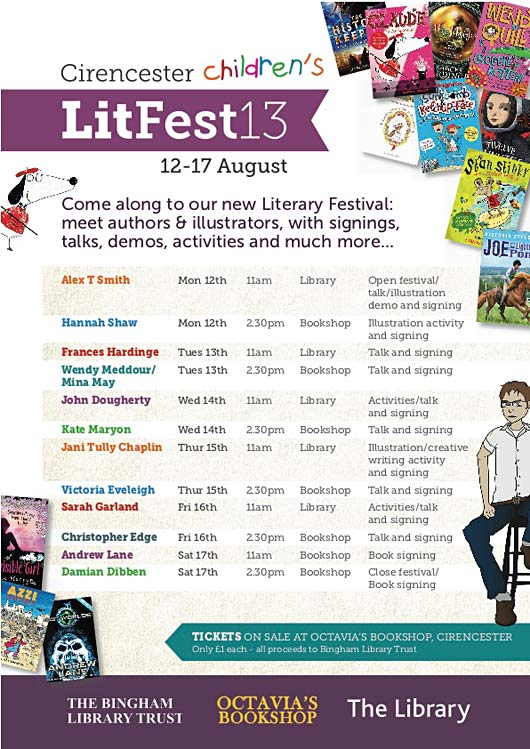 The line up is now complete for the inaugural literary festival for children, young people and families taking place in Cirencester in August. Opening on Monday 12th August there will be two event...[full story]
Posted : 19/06/2013 16:02:56
Local talent completes line up for Cotswold Show Music Festival
Following a call for new talent to appear at this year's Cotswold Show, the line up for the Music Festival is now complete. The Show is celebrating its 25th anniversary on 6th and 7th July at Cire...[full story]
Posted : 19/06/2013 14:19:37
Cirencester Children's Literary Festival 12-17 August 2013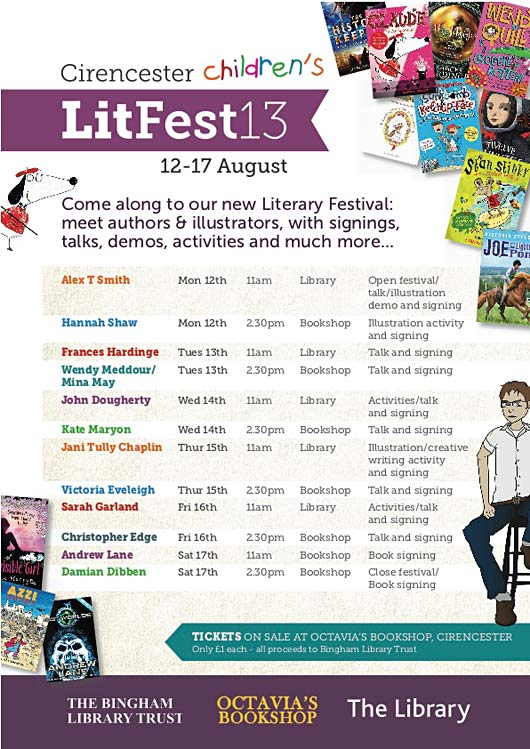 A brand new literary festival for children, young people and families is taking place in Cirencester in August – can you promote the news? Opening on Monday 12th August there will be two events ea...[full story]
Posted : 18/06/2013 21:41:57
Budgens store in Chesterton Road celebrates move to 100% British fresh meat and poultry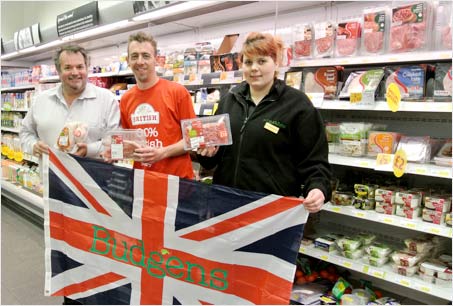 Local Budgens retailer Susie Hawkins (Simon Smith Group) in Chesterton Road is celebrating today as the store moves towards 100% British for its own-brand SuperValu fresh meat and poultry. From tod...[full story]
Posted : 28/05/2013 13:18:46
BIG awards for small visitor attraction
Cirencester's Corinium Museum has won a Silver Award in the Small Visitor Attraction category at the prestigious VisitEngland Awards for Excellence 2013 Ceremony. The Silver Award is one of the hig...[full story]
Posted : 27/05/2013 22:44:58
Looking for a room to rent or a house share in Cirencester?
For over 10 years the Cirencester website has been a comprehensive source of hotels, bed and breakfast and self catering accommodation in the Cirencester area. From today, you can now also find det...[full story]
Posted : 15/05/2013 20:05:05
Classic cinema comes to Cirencester from April
Lovers of great classic and contemporary films in Cirencester are in for a big treat from April 2013 when the Corinium Museum launches its exciting second season of monthly Thursday evening films. Thi...[full story]
Posted : 21/03/2013 08:25:10
Appeal for Witnesses to Cirencester Collision
Police are appealing for witnesses to a collision in Cirencester last night. The emergency services were called to a report of a pedestrian who had been struck by a dark BMW 316 Compact at the junc...[full story]
Posted : 18/03/2013 11:42:13
Do you have a Cirencester related news story?
If you have a Cirencester related news story you would like to tell us about, please email news@cirencester.co.uk
Advertisements
News Archive
A selection of Cirencester News from the archive will appear here shortly.