Cirencester News
The Cirencester Blog is a collection of diary entries, news, gossip and other Cirencester related information.
Covid-19: Recycling and waste services update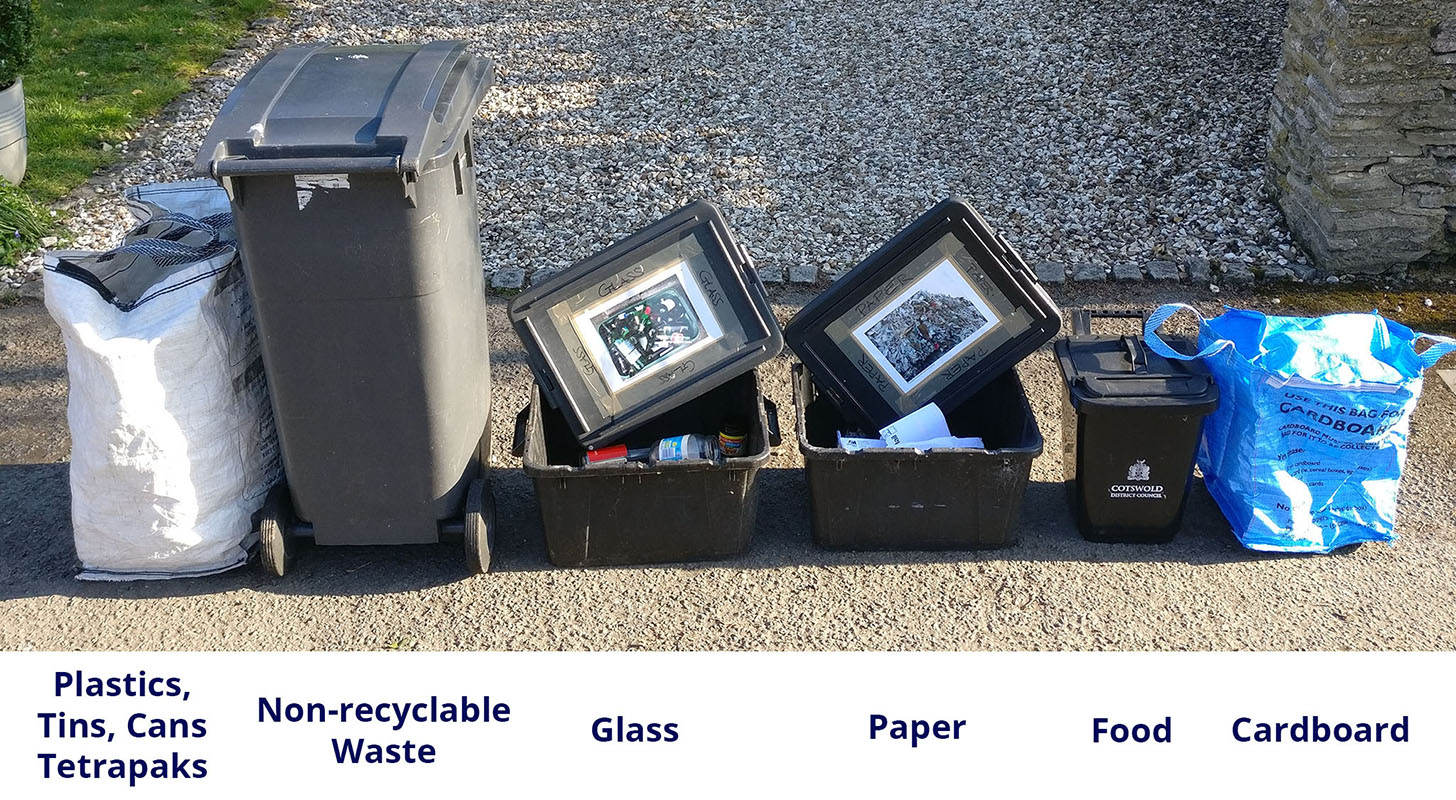 Cotswold District Council is calling on all residents to present their recycling correctly and do all they can to limit the amount of waste they are generating while social distancing measures are in ...[full story]
Posted : 02/04/2020 17:17:21
Council will save thousands on printing and mailing costs
Cotswold District Council has agreed a measure which will save taxpayers thousands of pounds on the cost of printing and mailing Council Tax, Council Tax Support, Business Rates and Housing Benefit d...[full story]
Posted : 08/02/2017 19:44:26
Council freezes Council Tax
Members of Cotswold District Council met today and endorsed the Cabinet's recent recommendation to freeze its share of local residents' Council Tax payments for 2016/17, following a 5% cut in 2015/16,...[full story]
Posted : 23/02/2016 20:48:08
Slight delay in delivery of new Green Waste licences
Due to reasons beyond the control of Cotswold District Council, there will be a slight delay in the delivery of new annual green waste licences which are due to come into effect on 1 April. We ap...[full story]
Posted : 21/03/2014 17:46:21
No changes to waste collections during Easter and Spring Bank Holidays
Cotswold District Council has confirmed that its waste service company, Ubico Ltd, will be collecting waste and recycling from households on Good Friday (18 April) and Easter Monday (21 April.) They ...[full story]
Posted : 06/03/2014 21:48:50
CDC to host 'Painted Cotswolds' awards ceremony for young local artists
Budding artists from local Cotswold schools will be honoured at a 'Painted Cotswolds' prize giving ceremony taking place at Cotswold District Council on Friday 20 September. Award-winning local art...[full story]
Posted : 17/09/2013 11:31:12
CDC launches new scheme encouraging children to box clever!
Cotswold District Council is encouraging school children to pursue an active and healthy lifestyle by acquiring some new exercise skills derived from a non-contact form of boxing. As part of its 'G...[full story]
Posted : 11/09/2013 10:13:07
Cotswold District Council launches recycling points for low energy light bulbs
Low energy light bulbs save money and help the environment by using less electricity. However they contain a small amount of mercury which is hazardous - they have to be disposed of carefully and shou...[full story]
Posted : 14/07/2013 22:22:52
CDC awards contract for leisure and cultural services
Cotswold District Council's Cabinet has agreed to award a contract to Sports Leisure Management (SLM) to take over the running of leisure and cultural services by the anticipated time of July 2013. ...[full story]
Posted : 11/05/2013 13:07:31
Cotswold District Council warns about Tax Band scam
Cotswold District Council is aware that at least two men have been making phone calls to local residents, advising them that their Council Tax bands may be too high. They offer to work on behalf of th...[full story]
Posted : 19/04/2013 13:06:22
It's time to sign up for the CDC Green Waste service
Cotswold District Council wants even more residents to go green this year and contribute to the authority's excellent waste recycling record. The sixth year of the Council's chargeable garden waste...[full story]
Posted : 19/02/2013 00:34:29
Corinium Via Play Area – statement from CDC
There has been considerable media coverage over the last few days regarding the play area at the Corinium Via housing development in Cirencester. The following statement has been issued by Cotswold...[full story]
Posted : 13/02/2013 23:00:32
Emergency Waste Collection Points are available from 23 to 25 January
Despite the adverse weather in the district today, Cotswold District Council has confirmed that the following three emergency waste pick up points will be operating between 8 am and 2 pm on: Wednesday...[full story]
Posted : 23/01/2013 10:10:56
No scheduled waste collections in Cotswold District on 21 January. Leisure Services and Museum open
Cotswold District Council regrets that its waste contractor, Ubico Ltd, is unable to make scheduled waste, recycling and food/garden waste collections today - Monday 21 January. Although main roads i...[full story]
Posted : 21/01/2013 09:44:42
CDC gives 'grand' support to Pudsey Bear and local charities
A recent fundraising event at Cotswold District Council has netted over £1,000 to be shared across three charities. Staff from the Print and Design Services recently organised a coffee morning, bli...[full story]
Posted : 11/12/2012 20:40:46
CDC announces Christmas and New Year waste collection arrangements
Cotswold District Council's waste and recycling collection service provider, Ubico Ltd, will not be making collections on the Christmas period Bank Holidays - Tuesday 25, Wednesday 26 December and als...[full story]
Posted : 10/12/2012 19:33:21
Sacks delivered across district for kerbside plastic recycling
In preparation for the launch of kerbside mixed rigid plastic collections in the Cotswold district next month, special white sacks for storing the materials have now been distributed to most household...[full story]
Posted : 21/09/2012 09:38:25
Still time to sign up for Green Waste Service

Almost half of the residents in the Cotswolds have now subscribed to the Council's paid-for garden and food waste collection service, and there's still time to sign up! The fifth year of the servic...[full story]
Posted : 06/03/2012 16:36:27
Why overloaded bins cannot be collected
Residents are being reminded that Cotswold District Councils waste collection contractor - SITA UK will not empty overloaded grey (refuse) and green (garden waste) bins. The policy was introduced a...[full story]
Posted : 28/02/2012 00:17:28
New Waste Collection Arrangements
Cotswold District Council will start introducing new refuse and recycling collection rounds, to simplify arrangements and increase efficiency, on week beginning 14th June. The Council, working with...[full story]
Posted : 26/05/2010 09:57:57
There's Still Time to Sign Up for Waste Service
Residents wishing to take part in one of the best recycling schemes in the country can still sign up and be a part of Cotswold District Council's bid to top the nation's recycling chart. The third ...[full story]
Posted : 23/03/2010 19:50:34
Council Hosts A Tree-mendous Celebration
The Cotswold Tree Warden Group is organising a prestigious tree awards ceremony at the Cotswold District Council offices on Saturday 20th March. The Wardens conducted an inter-parish competition re...[full story]
Posted : 19/03/2010 17:45:30
Sunday Times Survey Praises Council Staff
A recent employee-driven nationwide survey has ranked Cotswold District Council as one of the best places to work in the public sector. A survey commissioned by the Sunday Times to gauge employee s...[full story]
Posted : 17/03/2010 17:43:25
Council Puts Down Roots For A Greener Future
A newly planted English Oak sapling is thriving in Cirencester thanks to a pledge to save paper by Cotswold District Council. A tree planting ceremony took place at the Kingsmeadow Tesco site on Th...[full story]
Posted : 15/03/2010 17:39:47
Do you have a Cirencester related news story?
If you have a Cirencester related news story you would like to tell us about, please email news@cirencester.co.uk
Advertisements
News Archive
A selection of Cirencester News from the archive will appear here shortly.