Cirencester News
The Cirencester Blog is a collection of diary entries, news, gossip and other Cirencester related information.
Cirencester Fleece Fayre 2018 - Community May Day Celebration returning to Cirencester
Cirencester's second Fleece Fayre, a fun filled community May Day festival, celebrating Cirencester and its rich history of the wool trade will be returning to the Market Place on Monday 7 May 2018. ...[full story]
Posted : 24/04/2018 17:16:10
Cirencester Fleece Fayre 2017
Cirencester Town Council in partnership with Abbey 900 will be hosting Cirencester's first Fleece Fayre, celebrating the history of the wool trade in our beautiful town. As part of the Abbey 900 cele...[full story]
Posted : 26/04/2017 19:50:41
Cirencester Mop Fair
Cirencester Mop Fair will be on standby this year while the market place regeneration continues and in the absence of an alternative venue. An annual Mop Fair has been held in Cirencester for over ...[full story]
Posted : 03/10/2016
Markets move to Brewery Court while regeneration is completed
With the Market Place regeneration works moving swiftly towards completion and the main works focusing on the area in front of the church, the weekly Friday Charter Market and twice monthly Farmers' M...[full story]
Posted : 29/09/2016
Cirencester Town Centre Regeneration Project
If you come in to Cirencester regularly you will no doubt be aware of the works going on in and around the Market Place; and whilst we appreciate the disruption, we know that the wait of over 50 years...[full story]
Posted : 31/07/2016
Christmas in Cirencester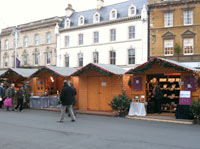 The Cirencester Christmas Market opened in the Market Place today. A range of traders will be happy to welcome you between 10am - 6pm (Sun-Fri) and 10am - 7pm (Saturdays). 2011 exhibitors includ...[full story]
Posted : 25/11/2011 18:09:29
Do you have a Cirencester related news story?
If you have a Cirencester related news story you would like to tell us about, please email news@cirencester.co.uk
Advertisements
News Archive
A selection of Cirencester News from the archive will appear here shortly.