Website Design Cirencester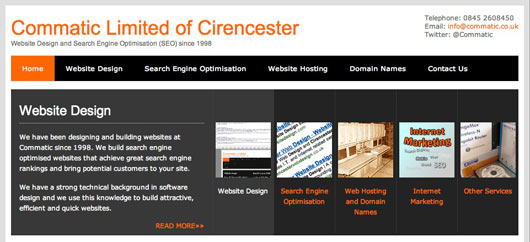 If you are reading this then you are interested in website design services in Cirencester, or you are one of our competitors checking out the competition!
We (Commatic Ltd.) have been designing and building websites for clients in Cirencester for over 15 years, making us one of the longest running web design companies in the area.
We have seen many new local entrants to the website design market come and go, but we have been constantly providing quality website design services since 1998.
Over the years we have built long-term working relationships with many familiar local businesses. For some businesses we built their very first website, and for others we took on the running of their website when their previous web designers ceased trading or ceased providing the level of service the business rightly expected.
If you are looking for a web designer based in Cirencester then we would be happy to chat through your requirements, whether you need a brand new website, or you are looking for someone to take over the running and maintenance of your existing website.
We can take on the whole website project, right from registering the domain and arranging the website hosting, through designing and building the website, to the website launch and on-going maintenance and search engine optimisation (SEO).
We will be with you every step of the way.
But we are equally happy to take on part of the website project, for instance if you already have a graphic designer that you work with, or you already have the domain name and hosting in place.
You might be wondering why you have never heard of Commatic if we have been around for so many years. Well that's simple. We don't cold call and we don't particularly advertise - we don't need to. Most of our new business comes from referrals and word of mouth.
So if you would like to work with an established local web designer then please get in touch. You will be glad you did.
We look forward to hearing from you.
Telephone us on 01285 850044.
Contact Us
To get in touch with us for a FREE initial discussion about your website requirements, please phone 0845 260 8450 or 01285 850044 (or email info@cirencester.co.uk)
Or you can visit:
www.commatic.co.uk
www.cirencesterwebsitedesign.co.uk
www.cirencesterwebdesign.co.uk
www.webdesigncirencester.com

Recent Project - Website Re-design for The Old Brewhouse
We have recently completed a new website for The Old Brewhouse Bed and Breakfast in Cirencester: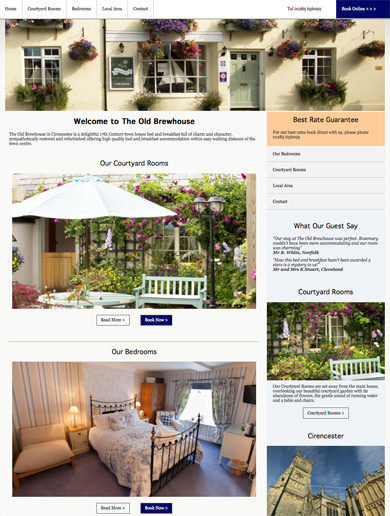 Our Client List
Our Cirencester clients include The Corinium Hotel, The Ivy House Bed and Breakfast, The Old Brewhouse Bed and Breakfast, Jeffrey Rimes Office Furniture, The Crown of Crucis, Corinium Architectural Services and many, many more.