Roses Flower Shop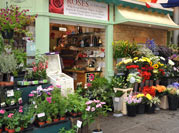 You have requested further details about Roses Flower Shop, at present the details we have are as follows.

Description
Read the rave reviews about Rose's creativity and the arrangements she creates for birthdays, anniversaries, weddings and funerals - all produced by Rose and family under her excellent guidance.

Established since 2008.
Address
1 Brookmoor House
Cirencester
GL7 1LL
Telephone
01285 643634
Map
Click here to view location map for Roses Flower Shop
This Cirencester Business Directory query was generated on 19/05/2022 02:45:56
If you believe any information is incorrect, please email [email protected]



Advertising your business here costs from £145 + VAT per annum
See the Advertising section for more details
Advertisements
Related Links
If you would like to add an entry to the Cirencester Business Directory, please click here