Lick the Spoon launches Ice Cream in Cirencester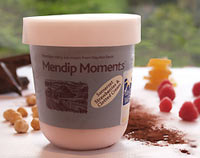 Chocolatier Lick the Spoon have teamed up with the award winning Somerset ice cream producer Mendip Moments to launch ice cream in their Cirencester shop.

Mendip Moments produce all of their ice cream using milk and cream from their pedigree herd on Haydon Farm overlooking Glastonbury Tor.

Lick the Spoon company founder Diana Short said "We always planned to launch ice cream once our Cirencester shop was established as it is a natural counterpoint to chocolate in the hot weather.

Mendip Moments founder Jayne Lunnon said "We are excited about supplying artisan company Lick the Spoon with our ice cream. Ice cream and chocolate are a good marriage, and we are both committed to producing the best quality fine foods we can."

Lick the Spoon and Mendip Moments are both Taste of the West members and source as many of their ingredients as possible from other small West Country producers. Diana said "We are delighted to have teamed up with Mendip Moments as not only is their ice cream exceptionally good, but we share a similar passion for the taste and provenance of South-West food".

Ice cream flavours available in Lick the Spoon's Black Jack Street shop will include Vanilla Bean, Somerset Strawberries & Clotted Cream, Chocoholic Chunk, Clotted Cream & Honeycomb, Praline & Pecan Crunch, Stem Ginger and Raspberry & Elderflower Sorbet.

Since launching their flagship store in Cirencester in December 2009 Lick the Spoon have built a steady base of fans in the Cotswold area including many local celebrities. "We are very pleased with the way our shop is progressing," explained Diana, "but we have just started the journey, and ice cream is a further part of our aim to become the most deliciously decadent shop in the South-West".
Posted: 16/04/2010 12:12:21



Advertising your business here costs from £145 + VAT per annum
See the Advertising section for more details
Do you have a Cirencester related news story?
If you have a Cirencester related news story you would like to tell us about, please email [email protected]
Advertisements
Recent News Stories
Gloucestershire placed in Covid Tier 2
On 26th November, the Government announced the new Covid Tiers. There are three tiers - 1 (Medium), 2 (High) and 3 (Very High). Only The Isle of Wight, Cornwall and the Isles of Scilly are in Tier 1. Gloucestershire has been placed in Covid...
Posted : 26/11/2020 17:23:44
Links