Kings Head Hotel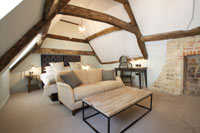 You have requested further details about Kings Head Hotel, at present the details we have are as follows.

Description
The Kings Head is an elegant boutique hotel in the heart of Cirencester that offers 45 stylish individually styled bedrooms, an exceptional wine list and relaxed all day dining along with a unique subterranean vaulted spa.

The Kings Head is a great base for a country get-away with the added bonus of a being located in a bustling market town, perfect for exploring all that the Cotswolds has to offer.

The hotel also has private meeting, dining, event and wedding facilities. Whether you are planning a party or meeting for 4 to 300 people we have the perfect space for you.

The hotel was recently nominated for Best Newcomer in the Mr & Mrs Smith Awards.
Address
24 Market Place
Cirencester
GL7 2NR
Telephone
01285 700 900
Website
Map
This Cirencester Business Directory query was generated on 17/09/2019 15:43:48
If you believe any information is incorrect, please email webmaster@cirencester.co.uk



Advertising your business here costs from £145 + VAT per annum
See the Advertising section for more details
Advertisements
Related Links