The Cotswold Auction Company specialist picture sale in Cirencester, May 18th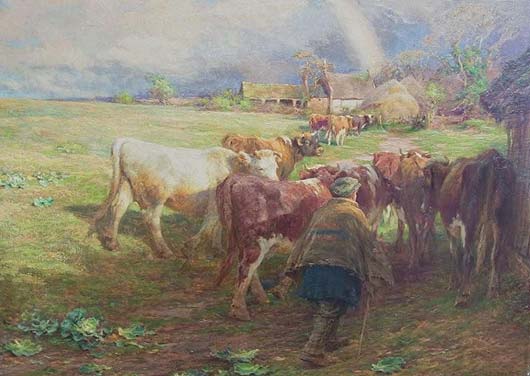 Milking Time by Victorian landscape and animal painter, Charles James Adams (1859 to 1931)
Highlights of The Cotswold Auction Company's forthcoming sale on 18 May include an exciting collection of work from the studio of the well-known Victorian landscape and animal painter, Charles James Adams (1859 to 1931). A fine oil on canvas, "Milking Time" (estimate £3,000 - £5,000), is a classic example of British 'plein air' painting, treating a traditional subject with a broader brush in a naturalistic, informal style. Also included is a large group of fresh and exuberant watercolours, including a broad range of subjects drawn from the Home Counties and also from Skye.

In the same sale is a fine example of a female nude study in oil on panel (estimate £4,000 - £6,000) by the great Victorian exponent of the subject – William Etty RA (1787-1849). Following the recent all-encompassing and important exhibition at the City Art Gallery in the artist's home city of York 'William Etty: Art and Controversy' there has been a resurgence of interest in this romantic humanist Royal Academician.

Also worthy of mention is a fine early 'Italian' watercolour with gouache by Keeley Halswelle (1832-1891) (estimate £600 - £800). Something of a rarity on the art market, this sensitive but exuberant study shows peasants resting in the Roman Campagna in the heat of the midday sun.

Other artists include E. J. Niemann, G. Cattermole, A. Heaton Cooper, H. J. S. Stannard RBA, and after Piranesi, W. L. Wyllie and W. Walcot.

The sale takes place at the Bingham Hall Auction Rooms in Cirencester on Friday 18th May and can be viewed on the day prior, Thursday 17th May, 10 am to 7 pm, plus morning of sale from 8:30 am. Interested collectors can view the catalogue online on www.cotswoldauction.co.uk, with the added benefit of live, online bidding on www.the-saleroom.com on the day of sale. For enquiries, please telephone 01285-642420, 01242-256363 or 01452-521177. Charles James Adams catalogues can be purchased for £3.50 p.p.

The auctioneers are already accepting entries for their next Fine Art sale to be held in the autumn. Pictures specialist Douglas Chomé Wilson (formerly of Bonhams and Sothebys) is delighted with the collection he has amassed for this Spring sale and looks forward to finding some more gems in the Cotswolds for the next auction, while an exciting Modern Art sale is booked for May 29 at the Chapel Walk Saleroom in Cheltenham. For auction, insurance or probate valuations Douglas can be contacted at the Cheltenham saleroom on 01242-256363.
Posted: 04/05/2012 11:01:28



Advertising your business here costs from £145 + VAT per annum
See the Advertising section for more details
Do you have a Cirencester related news story?
If you have a Cirencester related news story you would like to tell us about, please email news@cirencester.co.uk
Advertisements
Recent News Stories
New management for Bishops Walk shopping Centre
Bishops Walk to take "a big step forward" with new management Property consultancy, Barnsdales has been appointed as the new property managers of Bishops Walk Shopping Centre in Cirencester. Bishops Walk is Cirencester''s only covered...
Posted : 11/03/2020 08:32:50
Links