Santa Fun Run in Cirencester To Raise Cash For Canine Partners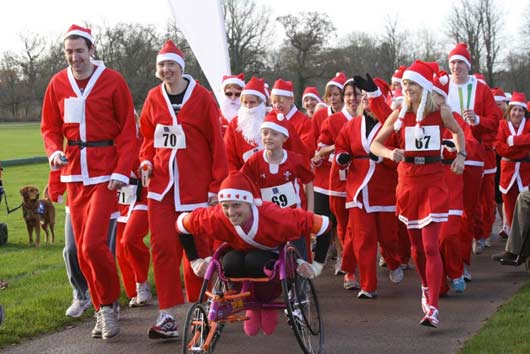 Gloucester Santa Fun Run 2011
Sadly this event has had to be cancelled due to low numbers. We hope to be able to run it again next year.
*** Sadly this event has had to be cancelled due to low numbers. We hope to be able to run it again next year. ***

Following on from the success of the inaugural Canine Partners Santa Fun Run in Gloucestershire last year, the charity is encouraging speedy Santas to sign up for the 2012 event. Taking place on Saturday 1 December, 11am at Bathurst Estate, Cirencester Park, Cirencester, Gloucestershire, GL7 2BU courtesy of Lady Bathurst, the fun run will raise valuable funds for Canine Partners, a charity that provides highly trained assistance dogs to people with disabilities.

Participants will don a Santa suit and complete the 5k fun run through the grounds of the Bathurst Estate and Cirencester Park. Upon completion they will be rewarded with mince pies and mulled wine, in true Christmas spirit. Children aged eight and over are welcome to enter and will be provided with a Christmas hat to wear, then receive a drink and mince pie at the end.

Head of Regional Fundraising Jill Green comments, "Last year's event was a great success, raising over £2,000 for Canine Partners. Our thanks go to Lady Bathurst who kindly allows us to use the Park for this event. Our Santa Fun Run is a great way to raise cash for a worthy charity, who have a puppy training satellite in Gloucester and various disabled people in the county who are fortunate enough to have a canine partner."

Caroline Jephcott from Gloucestershire has Juvenile Chronic Arthritis and graduated with canine partner Yasmin in 2006. She says, "Yasmin has made me a happy person again, along with my husband and baby son. She has made me feel I can do things on my own and am worthwhile, which gives me my confidence back. Together we have been to work, to voluntary placements and we do lots with friends."

The cost to enter the Santa Fun Run is £12 per adult with a minimum sponsorship of £50, including Santa suit, drink and a mince pie. For children it is £8 to enter with minimum sponsorship of £25 to include Santa hat, refreshment and mince pie. Wheelchair users are welcome. For further information and to register please call Jill Green on 01730 716014 or email jillg@caninepartners.org.uk
Posted: 08/11/2012 13:58:04



Advertising your business here costs from £145 + VAT per annum
See the Advertising section for more details
Do you have a Cirencester related news story?
If you have a Cirencester related news story you would like to tell us about, please email news@cirencester.co.uk
Advertisements
Recent News Stories
New management for Bishops Walk shopping Centre
Bishops Walk to take "a big step forward" with new management Property consultancy, Barnsdales has been appointed as the new property managers of Bishops Walk Shopping Centre in Cirencester. Bishops Walk is Cirencester''s only covered...
Posted : 11/03/2020 08:32:50
Links