Welcome to Cirencester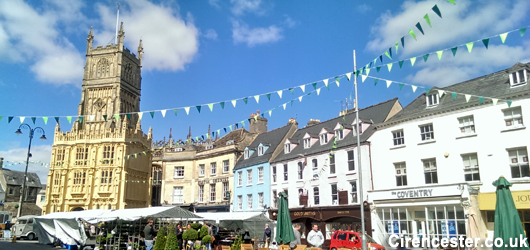 Market day in Cirencester on a lovely sunny April morning
Cirencester Guide
The Cirencester website, established in 1998, is the most extensive website of Cirencester related information and Google's top ranking Cirencester website. This Cirencester guide provides information on the beautiful Cotswold market town of Cirencester (as well as surrounding villages) for residents and visitors to Cirencester in the Gloucestershire Cotswolds including Cirencester news, images of Cirencester and the surrounding area, links to Cirencester related web sites and a searchable Cirencester business directory with online maps. You can find Cirencester accommodation, Cirencester restaurants and Cirencester events.
The Cirencester website is designed and maintained by professionals with over 20 years experience in the computing industry.
Cirencester Events
Corinium Hotel & Restaurant, Cirencester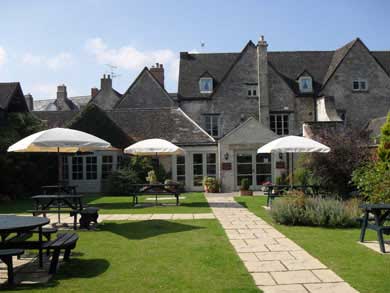 This delightful grade 2 listed small Hotel and Restaurant enjoys a quiet location in one of the oldest streets in Cirencester, yet it is only a five minutes walk to the town centre. More details...
Adverts and Sponsors






Advertising your business here costs from £145 + VAT per annum
See the Advertising section for more details
Cirencester News
If you're unemployed and live in Cirencester, a free course held at Bromford's office on Tetbury Road could see you kicking off your new career in just two weeks. Taking place ...
Posted: 11/04/2014 17:35:05
Instore collections by Cotswold Artisan Coffee and Planet Games in Bishops Walk raised £57 for Cirencester's Paternoster School for disabled youngsters. All the money was put i ...
Posted: 26/03/2014 10:05:52
Bishops Walk shopkeepers in Cirencester will be hiding golden bunnies on their shelves at Easter in a completion to win a large chocolate rabbit for a family. All shops in Bish ...
Posted: 25/03/2014 17:05:15
The Cotswold District Citizens Advice Bureau will be closed from Monday 31 March for 1 week and will reopen on 7 April. The CAB are refurbishing their office to increase capacity t ...
Posted: 25/03/2014 09:42:06
Editor Picks
The Cotswolds - Find out a more about the area of the country in which Cirencester is located.
Interested in volunteering in Cirencester? See our Charity page for local charities
New pages added for Bishops Walk Shopping Centre