Attractions announced for the 29th Cotswold Show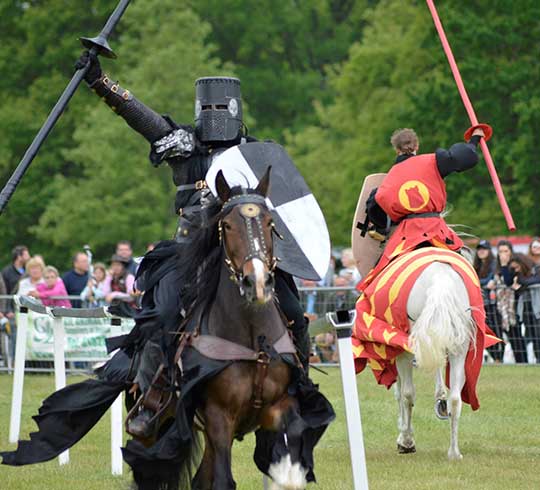 Headlining the main Bathurst Arena for the first time is the jousting display, Horsemen of the Knight
Plans are well underway for the Cotswold Show to be held in Cirencester Park on 1st and 2nd July 2017 with new attractions announced.

Now in its 29th year, it remains one of the Cotswold''s most popular rural events, with its winning mix of family entertainment, activity arenas, and 300 trade stands and food stalls, and exhibitors showcasing the best of the countryside, its history, traditions and produce.

Headlining the main Bathurst Arena for the first time is the jousting display, Horsemen of the Knight. Action packed with stunts, trick riding of the highest standard, amazing horses and horsemanship, sword fights and fire, the new attraction will appeal to the whole family.

British Scurry and Trials Driving – ''The Arena Challenge'' is carriage driving in miniature. Ponies and carriages fly around an obstacle course against the clock. All sizes and shapes of ponies will be taking part so miniature ponies can be flying around trying to beat Welsh cobs around the twisty course. Single ponies will gallop against pairs, all trying to be the best on the day.

Parachuting in to the Bathurst Arena are Jump4Heroes - The Royal British Legion Extreme Human Flight Team.  As serving and former members of the Army they support charities that help the Armed Forces by both fund raising and increasing public awareness of the charities and their plight.

Brand new for 2017 is a whole area for man''s best friend. The ''World of Dogs'' will feature terrier and lurcher racing as well as dog shows for both breeds. There will be dog agility displays as well as a have-a-go dog agility course and a family dog show on both days.
Working dogs will also be on display. Tom Longton will be working his dogs with ducks, geese and sheep. Tom is an International sheepdog handler and will be providing an interesting and educational insight into this age-old partnership.

Also in the World of Dogs will be Luigi''s Smart Dogs, specialising in canine education and behaviour. The British Association for Shooting and Conservation (BASC) will be running a variety of events where dog owners can put their pets or working dogs to the test. Gloucestershire Police Dogs will be on show in the Bathurst Arena demonstrating how they help to keep Gloucestershire streets safe. The display will show how the dogs are used on a day to day basis in different situations.

Originally founded as a showcase for countryside pursuits, Show visitors can expect to learn all about traditional rural skills through demonstrations and hands-on experience. Have a go at shooting clays, archery and even ferret racing, and watch the experts at work in displays of falconry, saddlery, beekeeping, wood carving and more.

The Show's original ethos ''where town meets country'' is still adhered to 29 years on with masses to see and do for the whole family throughout the weekend including tree climbing and bungee trampolines, children's go carts and bumper boats.

The Food Festival element of the Show continues with the Cookery Theatre featuring chefs from Cotswolds hotels and restaurants including Mark and Sue Stinchcombe from Eckington Manor. Mark won the BBC''s Masterchef Professional competition in 2015 and Sue has also appeared on the Great British Menu, Britain's Best Dish and Hairy Bikers. Also featured will be Marcus McGuinness from The Greenway Hotel and Spa, award winning chef, Gareth Fulford from Purslane Restaurant and Wayne Sullivan from Old Stocks Inn.

Show Partners, BPE Solicitors and Moore Allen and Innocent, will both be prominent at the Show with their own stands featuring entertainment and refreshments for clients.
Tickets for the Show are on sale via the website www.cotswoldshow.co.uk which is constantly being updated with new attractions as they are confirmed.
Posted: 16/05/2017 13:06:16



Advertising your business here costs from £145 + VAT per annum
See the Advertising section for more details
Do you have a Cirencester related news story?
If you have a Cirencester related news story you would like to tell us about, please email [email protected]
Advertisements
Recent News Stories
Gloucestershire placed in Covid Tier 2
On 26th November, the Government announced the new Covid Tiers. There are three tiers - 1 (Medium), 2 (High) and 3 (Very High). Only The Isle of Wight, Cornwall and the Isles of Scilly are in Tier 1. Gloucestershire has been placed in Covid...
Posted : 26/11/2020 17:23:44
Links