Sports Facilities in Cirencester
Sporting facilities in and around Cirencester include the Cotswold Leisure Centre, Cirencester Tennis Club, Cirencester Golf Course, polo at Cirencester Park and St. Michael's Park
Sports and Leisure Centres
Cotswold Leisure Centre, Cirencester
The Cotswold Leisure Centre is situated a short walk from the Market Place.
The centre offers the following facilities: swimming pool (6 lanes), small swimming pool, three squash courts, six court sports hall, sauna, steam room, shower and relaxation area, gym, fitness studio and meeting room
Tetbury Road
Cirencester
Gloucesteshire
GL7 1US
01285 654057
Cirencester Open Air Swimming Pool
Cirencester Open Air Swimming Pool offers a unique chance to swim in natural spring water, heated to an average 27°C (80°F).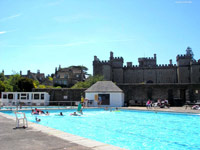 Located on the edge of Cirencester Park, there is a 28 metre main pool with slide, separate children's paddling pool, sunbathing patio as well as hot and cold refreshments, picnics welcome. There are no sessions and many families and friends stay all day.
This is now the UK's oldest open-air pool, having been in continual use every summer since 1869. Although there are one or two other pools slightly older, they have not always remained open, in fact 90% of all the UK's pools have been demolished in the last 40 years. It has been run by volunteers since 1973 and is now a registered charity.
You can find information on opening times, prices, private hire and the full history of this ancient pool at www.cirenopenair.co.uk/
Cecily Hill
Cirencester
Gloucestershire
GL7 2EF

01285 653947
Cirencester Polo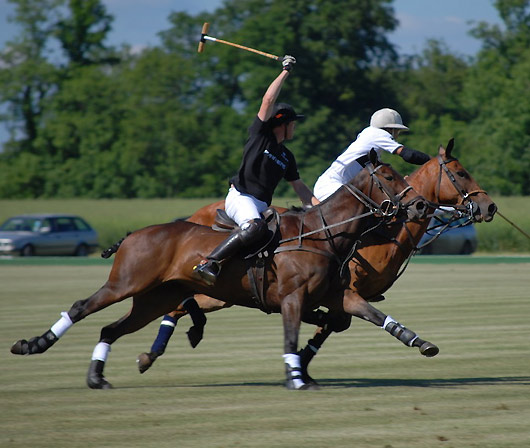 Just a five minute drive from the very centre of Cirencester, amidst the glorious Bathurst Estate, Cirencester Park Polo Club offers some of the best facilities in the country for the magnificent 'Sport of Kings'. Revered as one of the country's most historic polo clubs, Cirencester offers 11 grounds, a Grade I listed clubhouse, the Thatched Bar and some of the highest levels of polo in the country (up to 26 Goal). There is also the opportunity to have a go yourself; the Club's Academy offers complete beginners to seasoned pros the opportunity to learn and improve in this fantastic, unique setting.
Link: More Cirencester Polo Information
Tennis Courts
St. Michaels Park, King Street, Cirencester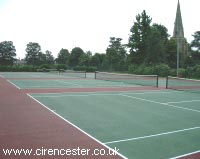 In June 1984, the Town Council undertook the redevelopment of St Michael's Field. This open-air recreation park, of some seven acres of landscaped grounds, provides four hard tennis courts (Tel: 01285 655646) with floodlighting, puting, croquet, mini and crazy golf, children's adventure playground, swing ball and barbeque, together with changing rooms and soft drinks, with continued further investment. The park is now maturing well and has proved a most attractive addition to local amenities.
Cirencester Tennis Club, Cirencester Park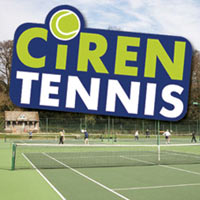 The Club has seven all-weather hard tennis courts, four with floodlights. Our Head Coach Adam Swan runs coaching groups and drill sessions for all abilities – individual lessons are available too. There are well attended club sessions throughout the week for general doubles play. Our website holds lots of useful info, live weather data, links to local leagues plus details of all our sessions.
There is a large Junior membership with a comprehensive coaching programme - including organized sessions, box leagues and tournaments.
We have six Ladies' teams and six Men's teams in the Wilson Gloucestershire Summer League and six mixed teams in the winter league too, so it's possible to play tennis all year. Each year there are Club Championships, Fun Days and Indoor tournaments and much more.
For further Club information, please call the enquiry line on 07805 338 529
For the coaching programme, please call Head Coach Adam Swan on 07795 595294
Golf Courses
Golf courses in the Cirencester area include:

Cirencester Golf Club, Bagendon, Cirencester - 01285 653939
South Cerney Golf Course, Northmoor Lane, South Cerney, GL7 5QD - 01285 861001
Oaksey Park Golf & Leisure - 01666 577995
Brinkworth Golf Course, Brinkworth - 01666 510277
Faringdon Golf Course, Great Coxwell, Faringdon - 01367 243944
Cirencester Skate Park
Kingshill Sports Development Field, Cirencester, GL7 1HS



Advertising your business here costs from £145 + VAT per annum
See the Advertising section for more details
Advertisements