Nell Gifford, founder of Gifford's Circus, to turn on Cirencester's Christmas Lights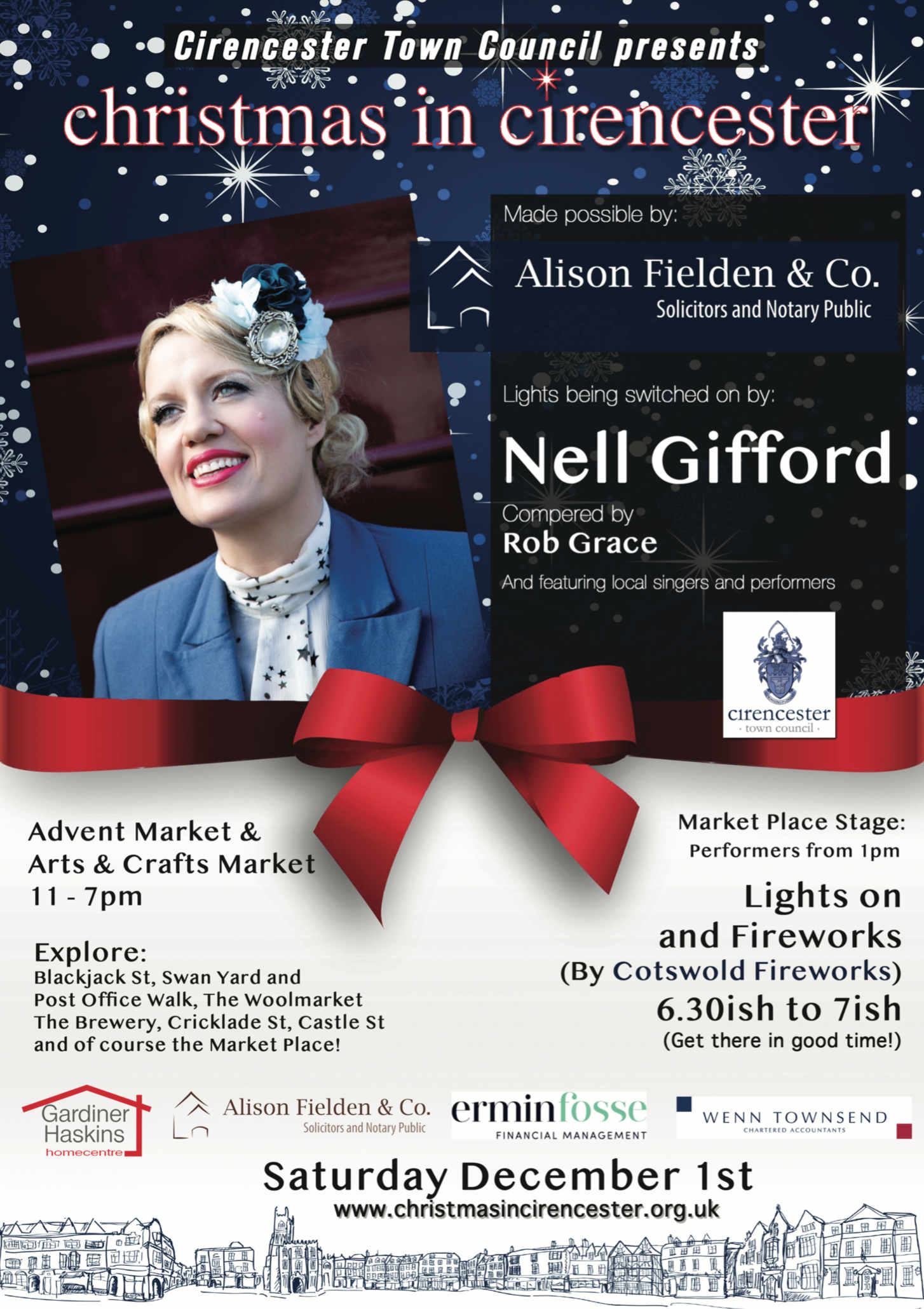 We've got some great traders, street food and drink caterers attending, plus fair rides for the children and Santa's Grotto at the Fleece Hotel."
Cirencester Market and Events Officer Sarah Bartlett
Organisers of Cirencester's Advent Festival are delighted to announce that the Cotswolds' Nell Gifford, founder of Gifford's Circus, will be Cirencester's special guest this year to switch on the Christmas Lights.

The event, which is being organised by Cirencester Town Council's Advent Team, will take place on Saturday December 1st from 11.00am to 7.30pm. This will culminate with the traditional light switch-on ceremony from 6.30pm and a display by Cotswold Fireworks at 7.00pm.

Shops and businesses are being asked to enter into the spirit of the day with special themes, entertainment and special promotions.

Cirencester Market and Events Officer Sarah Bartlett, said: "We've got some great traders, street food and drink caterers attending, plus fair rides for the children and Santa's Grotto at the Fleece Hotel. There will be live stage performances and some pop-up performances taking place throughout the town"

Cllr Sabrina Poole, part of the organising team said

The event relies heavily on community input, so we welcome volunteers from the local community to help make the day run as smoothly as possible.
Email [email protected] for more information.
Posted: 28/11/2018 17:47:57



Advertising your business here costs from £145 + VAT per annum
See the Advertising section for more details
Do you have a Cirencester related news story?
If you have a Cirencester related news story you would like to tell us about, please email [email protected]
Advertisements
Recent News Stories
Gloucestershire placed in Covid Tier 2
On 26th November, the Government announced the new Covid Tiers. There are three tiers - 1 (Medium), 2 (High) and 3 (Very High). Only The Isle of Wight, Cornwall and the Isles of Scilly are in Tier 1. Gloucestershire has been placed in Covid...
Posted : 26/11/2020 17:23:44
Links