Cirencester History

Cirencester, known as the "Capital Of The Cotswolds", is an historic Roman town in the heart of the Cotswolds with attractions from a Roman Ampitheatre to the nearby Chedworth Roman Villa. The Corinium Museum in an important source of information on the local history.
The Greek writer Ptolemy mentions Korinion in his Geography, written about AD 150, and it is agreed that the Romans based the name Corinium on a Celtic word Corn or Corin. This may derive from the name of the British tribe, the Cornovii, and in any case it is connected with the name of the River Churn.
For details of the Arms of Cirencester, click here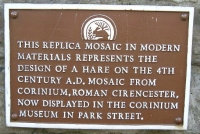 Cirencester has many fine examples of historic mosaics, including the one below which can be found near the Brewery Arts in the centre of Cirencester.
As you can see from the sign on the right, the replica mosaic represents the design of a hare on the 4th Century A.D. Mosaic from Corinium, Roman Cirencester, now displayed in the Corinium Museum.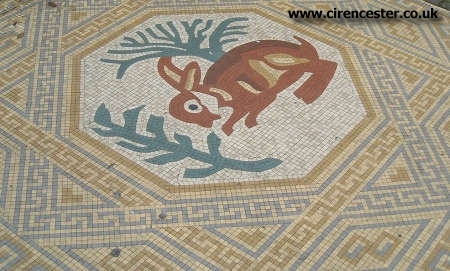 If you would like to submit an article on the history of Cirencester please send an email
Please also take a look at the Community section of this site for details of the Cirencester Civic Society.
Advertisements