Game Group enters into administration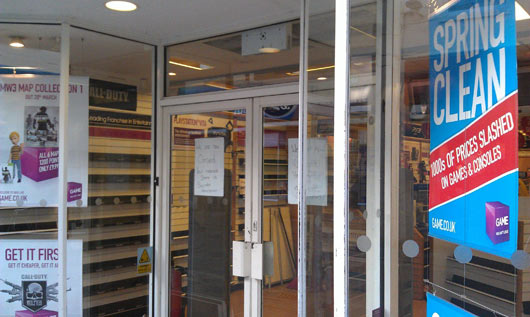 The Game shop on Cricklade Street, Cirencester, has closed. Photo kindly donated by
@azc
Britain's biggest video game retailer, Game Group, has gone into administration.

As we posted last week, Game Group has been hit by competition from online retailers.
Game's Cirencester shop, on Cricklade Street, is closed today. A sign in the window states that the shop is now closed and the nearest Gamestation store is in Swindon.

We believe that Gamestation is a joint venture between The GAME Group plc, Game Stores Group Limited, Gameplay (GB) Limited, Game (Stores) Limited, Games Station Limited, Game (Retail) Limited and Gamestation Limited.

The company asked for its shares to be suspended last Wednesday and announced it was planning to call in administrators.

One of the Administrators, Mike Jervis, is reported as saying "we are hopeful that a going concern sale of the business is achievable".

A press release says:

GAME Group plc ('GAME')

Appointment of Administrators

Further to our announcements of 21 March, the Board of GAME has completed its discussions with lenders and third parties without resolution, and has therefore today appointed PWC LLP to act as administrators for the Group. This decision is taken after careful consideration and ceaseless interrogation of every possible alternative. The Board would like to thank the teams of GAME and Gamestation colleagues around the world for their exemplary dedication, passion and professionalism.

Posted: 26/03/2012 15:21:25



Advertising your business here costs from £145 + VAT per annum
See the Advertising section for more details
Do you have a Cirencester related news story?
If you have a Cirencester related news story you would like to tell us about, please email [email protected]
Advertisements
Recent News Stories
Gloucestershire placed in Covid Tier 2
On 26th November, the Government announced the new Covid Tiers. There are three tiers - 1 (Medium), 2 (High) and 3 (Very High). Only The Isle of Wight, Cornwall and the Isles of Scilly are in Tier 1. Gloucestershire has been placed in Covid...
Posted : 26/11/2020 17:23:44
Links